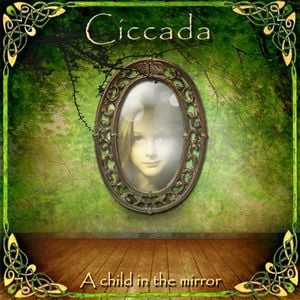 Artista: Ciccada
Álbum: A child in the mirror
Año: 2010
Género: Folk progresivo / Rock Progresivo Ecléctico
Nacionalidad: Griegos

Duración: 57:45 Minutos

Lista de Temas:
1. Ciccada (4:38)
2. Isabella Sunset (6:09)
3. A Child In The Mirror (6:00)
4. A Storyteller's Dream (7:08)
5. Raindrops (4:16)
6. An Endless Sea (5:27)
7. Epirus - A Mountain Song (4:58)
8. Elisabeth (7:08)
9. The Moment (3:14)
10. A Garden Of Delights (8:23)
Alineación:
- Evangelia Kozoni: Vocals, Keyboards
- Nicolas Nikolopoulos: Flute, Recorders, Organ, Mellotron, Piano
- Giorgos Mouchos: Acoustic & Electric Guitars
- Omiros Komninos: Electric bass
- Christos Zelelidis: Drums
- Panagiotis Gianakkakis: Piano
Una resubida de un disco bellísimo publicado en los primeros tiempos de este blog. Unos griegos deostrando cómo se puede imprimir sentimientos en sonidos, en un disco que perfectamente podría ser todo un clásico del género si hubiese sido creado en los 70s. No se pierdan esta maravilla del rock progresivo que está destinado a perdurar por su calidad musical y su buen gusto. ¡Ultra recomendado!!!
Banda Griega, una gran grata sorpresa en el año.
¿Qué tenemos acá?

3 Teclistas

(entre ellos hay Mellotron),

una variedad de instrumentación barbara

. Mucho estilo musical mezclado, influencias

de música griega en pequeñas dosis, también algo mediterráneo, algo de folk prog, algo de sinfonismo, bastante de esa cosa indefinida que es el prog ecléctico y muy buenos adornos con estilo de música clásica.


Candidatazo a entrar en el top 10 de lo mejor del año. Al menos en el mio entra seguro en el podio de los 3 mejores, es un disco con un muy buen balance de originalidad propia de la banda y de influencias que pasan por Anglagard, Renaissance, Jethro Tull, Gentle Giant y algo de Gryphon, entre otras cosas.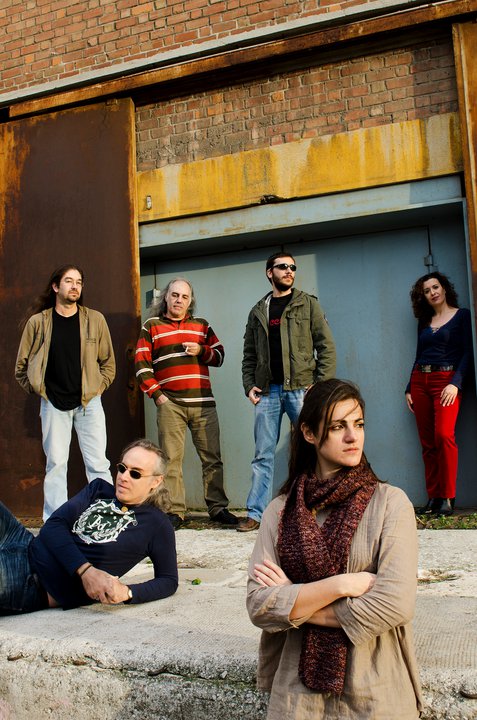 La voz de Evangelina tiene relación con la de Annie Haslam

, por momentos suena parecido, por momentos no, el hecho es que tiene un registro por lo menos similar (lo que ya es un buen punto a favor),

más aún con el fondo apoyado en mucho piano y órgano

(con 3 teclistas pueden hacer lo que quieran) e influencias con

aires de música clásica

.

La flauta tiene un papel muy importante cuando aparece

, rememorando a momentos de Anglagard con tal vez más contenido Folk por momentos, y más sinfónico por otros. En fin, un plato fuerte, atrapante, étnico, original, Bon apetit!
"Ciccada" arranca con

buen bajo, para darle paso a una sección de teclas interesante

, bien

ecléctica

apoyada en guitarras clásicas rasgueando. Hay flautas que vienen a aportar lo suyo, y unos cortes notables.
De entrada, al minuto, es un temazo que entra barbaro al oído y rememora grandes bandas eclécticas y sinfónicas, algo de

Anglagard, algo de VDGG, no demasiado, hay bastante de originalidad.




Tiene algunos fraseos de fusión de la guitarra, con cierta cosa étnica, no se si presisamente griega

, pero de algo mediterraneo puede ser, que suenan muy interesante, y las disonancias en la armonía y los parates y recomienzos le dan un color especial.

"Isabella Sunset" arranca con un

piano pomposo estilo Reinassance y un violín apoyado arriba.

La batería tiene un ritmo barbaro, muy sincopado, y los fraseos hermosos de

la peculiar voz femenina confirman tendencia a Reinassance

(no será Haslam pero se la aguantá la cantante).
Hay buen acompañamiento y detalles de un instrumento que tanta falta hace cuando no está,

el Mellotron, la flauta sumado al mellotron, y lo peculiar de los fraseos y la rítmica lo hacen un temón.


Después de un muy original corte en el minuto 3,

el piano aparece, el mellotron adorna, aparece alguna cuerda

(sintetizada tal vez) por ahí y también alguna flauta...

Suenan barbaro que los tiró!



"Ένα παιδί στον καθρέφτη - A Child In The Mirror", la del título en griego, para Pyra
. Empieza sutil. La cantante tiene un registro barbaro, llega muy arriba, y las vocales cantadas en griego son por lo menos, raras.


La batería tiende a algo más jazz fusionero

, y el resto de los instrumentos tira hacia algo más experimental, más abierto. Me gustan las teclas y las flautas, la voz, rara, es interesante también.
El bajo se puso las pilas en el minuto 3, y aparecieron de nuevo el mellotron (a la flauta! que bien suena) y la flauta que juega un duelo con la guitarra eléctrica...

100% fusión el pasaje, gana la flauta, reaparece el Mellotron, la batería ayuda,

¡Qué pasaje!

. Muy bien logrado, parece que siempre mejoran los temas por la mitad de los mismos, y eso que ya venían barbaro.
La que sigue,
"A Storyteller's Dream"
tiene una intro
más Folk, definitivamente más folk, con flauta arriba de guitarras clásicas
e influencias varias. La aparición de los sintes cambia de rumbo. Los cambios de la banda son realmente dificiles de reseñar.
Hay de todo, es un temón, con tantos tecladistas pueden hacer lo que quieran
, suenan muchas cosas a la vez, hay contrapuntos todo el tiempo, cambios de soleadores, de tiempo, de armonía de estilo, de lo que quieran.
Durante el tema hay solos de todos los tipos de teclados que quieras, los de Hammond son los que más llamaron la atención, pero el hecho de tener 3 teclistas realmente le da una variedad notable a la instrumentación.
La guitarra clásica también tiene un buena papel, digamos que toda la banda se luce cuando quiere
, lo que es un punto a favor.
Más flauta para
"Raindrops"
. Más dulce,
con más forma y menos experimental
. Más sinfónico, mucho más calmo,
muy buen mellotron, detalles de un segundo teclado, y excelentes ideas de la guitarra clásica
. A su vez la flauta traversa le hace contrapunto a la voz de Evangelina, y es una gran canción en otro estilo al que llevaba la banda.
Estribillo bello y pegajoso.
Es el tema que más fácil entra al oído, si bien el disco tiene mucha experimentación y pasajes instrumentales no es difícil de escuchar, pero esta canción
es más sutil, tranquila y con menos cambio.
"An Endless Sea"
vuelve a tener alguna cercanía al folk con tal vez algo a Anglagard. Definitivamente suenan bien.
El bajo se destapó antes del primer minuto
aportando unas notas muy interesantes.
En los espacios que deja la batería
hay un muy buen laburo de un piano que quiere ser neoclásico
,
interrumpido por una guitarra que tiende a un jazz fusión y una flauta que empuja al Folk prog
.
Realmente
tienen de todo
, sin desperdicios.
Hay por el minuto 4 varios solos a la vez para escuchar, el de flauta es el que más atrapa, pero los contrapuntos de los de guitarra eléctrica y de piano son más que una simple "base",
instrumentalmente son muy complejos los arreglos
, lo que es, con tan buenos instrumentistas un importante punto a favor.
"Epirus - A Mountain Song"
me
vuelvé a tirar hacia Renaissance
.
Piano sobre Mellotron, y la voz de soprano, todo apuntando a un sinfonismo cercano a la música clásica
. Otra vez el bajo aporta desde los graves, y la flauta, uno de los mejores elementos de la banda, baila por arriba, mientras sigue cantando Evangelina.
Casi que pasando desapercibidos cambian de estilos y sonoridad,
mutando a un fusión en el que se lucen todos los instrumentos, la batería con los golpes necesarios, el bajo y la guitarra dando vueltas y la flauta y la voz con el protagonismo.
Solo de guitarra más alternativo por el minuto 3 sobre Mellotron. Silencio.... De nuevo retome de la idea principal, ruidos de fondo, buen bajo, y más ideas de Folk prog,
son originales, y a la vez conocidos
. Muy amenos, y el mellotron junto al piano es algo que no se ha escuchado muchas veces en estos días, más sumado a una flauta y una viola que tiende por momentos al jazz y por momentos al prog folk.
Bellísimo.
Flautas, Mellotron y guitarra criolla arpegiando para
"Elisabeth"
. Retoman ideas Folk prog, muy bueno,
la formula piano - flauta - guitarra criolla les da mucho resultado
. Otra canción que entra fácil al oído.
Por momentos, cuando la batería afloja tienen ideas de música medieval, pero modernizada, es una
combinación de muchas cosas
, la instrumentación es variada, el género también lo es.
Son eclécticos al mango cuando quieren
, suenan
genialmente indefinidos.(?)
Por el minuto 3:30
alternan destellos de rock sinfónico estilo Focus, con rock más "normal" apoyado en la guitarra eléctrica soleando al mango
sobre colchón de teclas y un bajo que solo acompaña. Tienen mucha variedad, si que la tienen.
La batería si que sabe variar, y los fraseos del piano y de los teclados retoman esa cosa étnica que decía al principio.
El más corto del disco es
"Η Στιγμή - The Moment"
. Con
vocales otra vez en griego
(¿Algún traductor en la sala?). Más mediterraneo, y más fusión. Ti
ene jazz, tiene sincopa, tiene varios solos acoplados, y tiene batería cabalgando
.
Bajo con un leve popping, y la flauta vuelve a dar destellos,
me gusta el acompañamiento de la batería, y las disonancias de fondo
. Es
un genial fusión
, la guitarra improvisa de diez, y los teclados definitivamente saben lo que hacen.
El cierre del disco con
"A Garden Of Delights"
, arranca con algo de folk de Jethro Tull y algo de Focus. Muy sólido, buenos fraseos.
Corte de minuto 3 sombrío apoyado en piano con tiempo cambiante y un bajo que le hace la segunda, se van sumando el resto de los instrumentos
. Forman algo más tirando a Post Rock, con mucho cambio rítmico, fraseos entre cortados y cambio de estilos.
Por momentos son Gentle Giant con flauta muy acentuada, por momentos varian a fusión de cosas folk con rock
, la flauta sin duda tiene mucho que ver. Después suenan a los momentos más folk de Jethro Tull y sumado algún nuevo aire de Renaissance, más esa cuota propia que los hace ser más atractivos y que no aburran en lo absoluto.
El disco deja muchas cosas
, el
piano
, el
Mellotron
, la
flauta
, el buen trabajo del tandém
bajo/batería
y una
voz femenina
para seguir en los trabajos venideros,
un muy buen laburo desde Grecia y para el mundo prog.
¡Qué debut el de los griegos! Uno de los discos del año, sin lugar a dudas. Muy original, mucha instrumentación, muy variado, muy atrapante.
Link de descarga en comentarios.