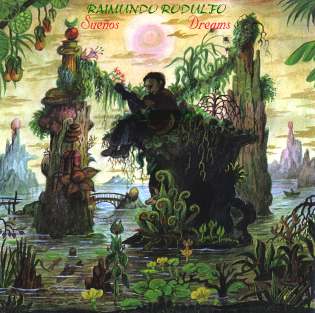 Seguimos con más Venezuela, y ahora con un digno continuador del legado de Vytas Brenner haciendo rock sinfónico de exportación. Para el que no conoció aún a este genio venezolano, hago mi contribución con el primero de sus discos, lleno de virtuosismo, buen gusto, sinfonismo y folcklore vanezolano. Disfruten esta belleza!

Artista: Raimundo Rodulfo
Álbum: Dreams
Año: 2000
Género: Folk rock sinfónico
Duración: 68:25
Nacionalidad: Venezuela
Lista de Temas:
1. Labyrinth
2. Friendship
3. New Horizons
4. Brainstorm
5. Hard Times
6. Math & Arts
7. Universal Codes


Alineación:
- Raimundo Rodulfo / acústico, guitarra clásica y eléctrica, mandolina, bajo (3,4,5,6,7), tobogán y percusión.
Músicos invitados:
Frank Alburjas / flauta
Lermit Martínez / teclados
Jesús Pérez / batería
Alfredo Suárez / percusión
Carlos Rodríguez / bajo
César Romano / violín
Efraín Ramírez / viola
Édgar Rodríguez / saxo


Para quien no lo conozca, Raimundo Rodulfo es un compositor, productor, arreglista y guitarrista; pero además de la guitarra (acústica, eléctrica, clásica) también toca bajo, mandolina, teclados e instrumentos de percusión.
Créanme, Raimundo Rodulfo es un verdadero artesano de la música. Principalmente, podemos decir que este venezolano es un gran guitarrista y un muy buen compositor del que ya hemos presentado en este espacio algunos de sus trabajos. A ver, si fuese posible combinar el talento de algunos grandes músicos y compositores como Bach, Mozart, Ian Anderson, Steve Howe, Steve Hackett, Rick Wakeman, Paco de Lucía, John McLaughlin, Al DiMeola y Allan Holdsworth (por nombrar algunos pocos) y producir con todas esos talentos un sólo músico que los reuniera a todos, creo que Raimundo Rodulfo se llevaría todas las de ganar, es que escucho en este hombre influencias de casi todos los grandes músicos del planeta, de ayer y de hoy, ya que su música que abarca diferentes estados de ánimo, de estilos y colores.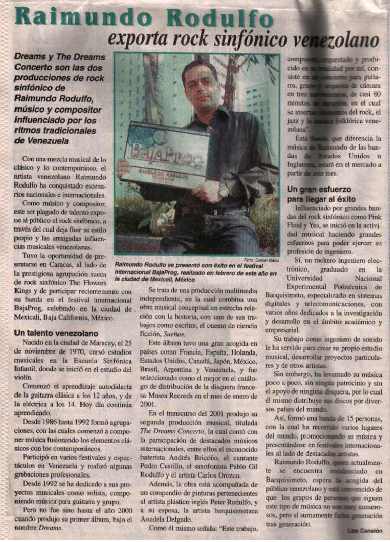 Este álbum (su ópera prima) ofrece emocionantes secciones de rock sinfónico instrumental, con su estilo propio que hace una mezcla entre el rock sinfónico que todos conocemos con elementos folkclóricos latinamericanos y bastante Canterbury, junto con grandes pizcas de jazz, formando un conjunto sólido y de muy buen gusto. Todas las pistas son agradables y con cierta originalidad, siendo quizás su mayor expresión el cuarto tema, que no por azar se titula "Brainstorm" (lluvia de ideas), canción estructurada sobre la fusión del reggae, para llegar a jazz y al blues.
Y por algo es que Raimundo Rodulfo representa parte de la nueva generación dentro de la escena rock en Venezuela, enmarcado dentro de las tendencias progresivas-clasicistas. En su obra ha desarrollado un estilo que permite ubicarlo entre los grandes representantes del rock progresivo provenientes de Venezuela (que son varios y buenos). Un artista venezolano versátil y virtuoso, creativo, es un guitarrista fantástico rodeado por gente muy talentosa en la ejecución de toda la variedad de instrumentos que Rodulfo utiliza para representar sus obras.
En su música se pueden escuchar influencias muy dísimiles, múltiples influencias que le han permitido desarrollar un estilo muy personal.



Este fue su primer disco, titulado "Sueños", conformado por música calmada y semi-acústica en un maravilloso arco iris de tonos con un estilo instrumental dúctil y narrativo que convence desde el primer minuto y no decae en la hora larga de sus siete composiciones. Un disco que nos atrapa en una vorágine de ritmos y experiencias sonoras nacidas de la capacidad creativa de Raimundo, donde todo suena muy sincero, fresco, natural, siendo una explosión de creatividad por la diversidad de sonidos y estilos fusionados en cada pista y por su estilo que combina complejidad, buenas melodías y muchos instrumentos diferentes. Los invito a conocer un disco que navega entre lo íntimo y lo sofisticado y que utiliza un amplio rango de armonías y tonos para crear un torbellino musical exótico y colorido, un viaje musical a un mundo de ensueño y fantasía.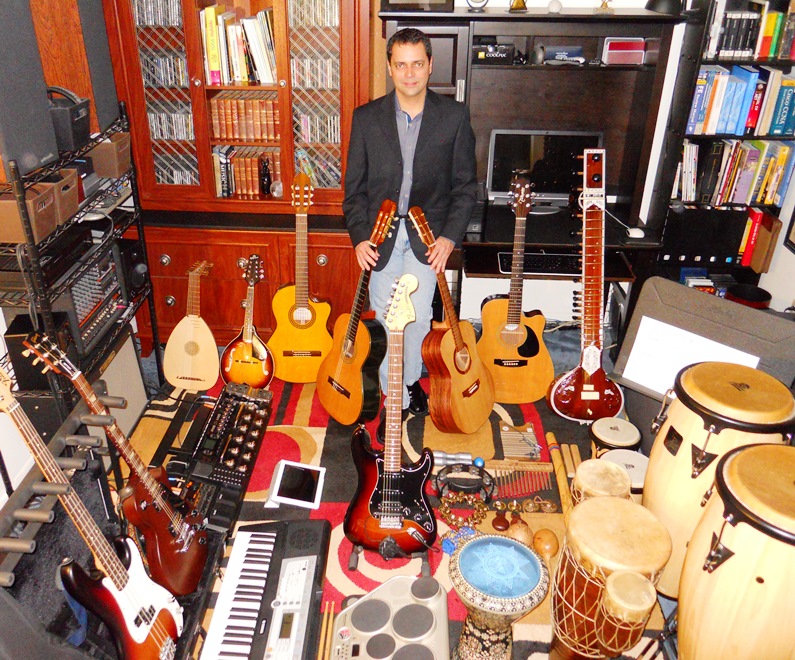 Esto suena muy de los 70s, tiene teclados mezclados con flauta y unas guitarras sorprendentes dirigiendo todo... con una versión latina de Steve Howe: toda la música de este álbum es llevado por su destacada labor de la guitarra.
Las canciones son buenas, bien estructuradas, y la música es muy original, cada pieza o suite conforma un disco íntimo, personal y encantador que es un viaje a un mundo mágico y de gran belleza. En conjunto este es un álbum fantástico. Muy cálido tanto en el tono como en el estilo. Un trabajo de calidad que seguramente va a satisfacer a los amantes del progresivo sinfónico, pero no solamente a ellos... este disco también se puede recomendar a aquellas personas que gusten de la mejor fusión entre el jazz y la música rock.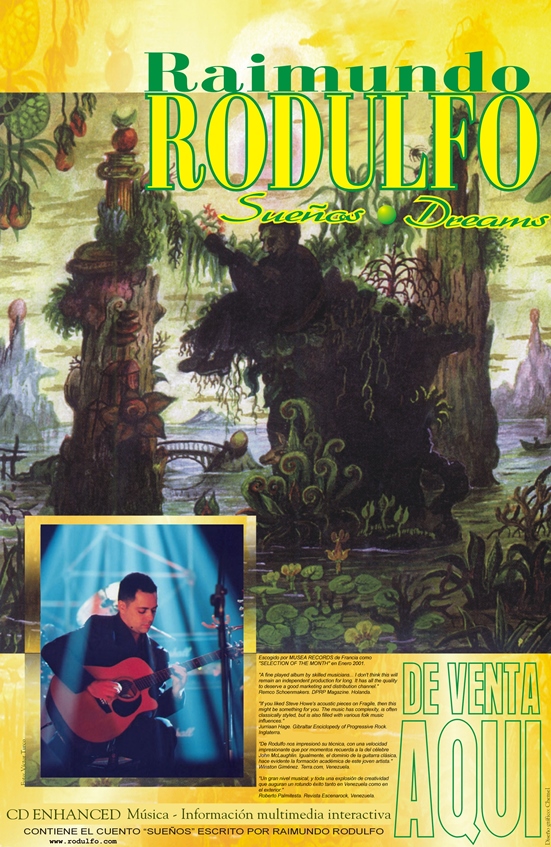 Raimundo Rodulfo se ha dedicado desde 1992 a sus proyectos musicales como solista, componiendo música para guitarra y para grupo. Produjo en el año 2000 su álbum debut Dreams, que además incluye uno de sus trabajos como escritor independiente, el cuento de ciencia-ficción "Sueños", y en el transcurso del 2001 su segundo álbum, The Dreams Concerto, un Concierto para Guitarra, Grupo y Orquesta de Cámara en 3 movimientos, que cuenta con la participación de 15 artistas invitados, incluyendo a reconocidos músicos como Andrés Briceño, Pedro Castillo, Pablo Gil y Carlos Orozco, y el pintor británico Peter Rodulfo. Esta última producción fue estrenada en la sexta edición del festival BajaProg, en Baja California, México, donde participó acompañado de un ensamble de 7 músicos, incluyendo al reconocido baterista Andrés Briceño. En el 2003 produjo "To LIVE a Dream - Official Bootleg" y "To LIVE a Dream 2 - Official Bootleg", dos álbumes virtuales en vivo totalmente descargables, disponibles en su sitio de Internet www.rodulfo.com e incluyendo música de varios conciertos como BajaProg, ProgJazz y el show en el que abrió para The Flower Kings. Todas estas producciones y conciertos, y el trabajo de Raimundo como guitarrista y compositor, han cosechado en el ámbito internacional las mejores críticas y numerosos reconocimientos en más de 20 países.
Rock Colombia
Raimundo mostró capacidad e interés por la música desde los seis años de edad, cuando inició sus estudios de música en la Escuela Sinfónica Infantil en su natal Venezuela. A los 12 años tomó una guitarra clásica para aprender a tocarla por sí mismo y a los 14 continuó haciéndolo con una guitarra eléctrica. Entre 1986 y 1992 formó parte de distintas agrupaciones en las que se inició como compositor, haciendo gala de una buena mezcla de las dos tendencias musicales que siempre le apasionaron: la clásica y la contemporánea.




Así se escribió su historia. Tras haber obtenido aprendizaje, experiencia y sensibilidad, Raimundo hubo de concretar el más ambicioso de sus sueños. Al perfilarse como músico solista, logra su primera producción en el 2000 con el álbum "Dreams", concepto en el que se manifiestan sus tendencias y las escribe tras las letras de un escrito literario. En 2001 produce su segundo álbum, "The Dreams Concerto", un concierto para guitarra, grupo y Orquesta de Cámara en 3 movimientos. En 2003 nos regala con dos producciones por obtener desde su sitio 3W: "To LIVE a Dream - Official Bootleg" y "To LIVE a Dream 2 - Official Bootleg", dos muestras musicales tomadas de distintas representaciones en vivo, que bien reflejan la capacidad musical de este hombre.




Fuertes elementos folk, partituras musicales con estructuras de música clásica, experimentaciones con un rock contemporáneo como base, tintes jazz, y sobre todo, una gran sensibilidad en cada una de sus rupturas. Rock progresivo de tendencia clásica sinfónica en un gran espectro de interpretación.
Manticornio
This is my second review of this month about musicians from Venezuela. The composer is Raimundo Rodulfo and after his debut album "Dreams" out of the year 2000, this second effort from 2002 has the title "The dreams concerto". The CD consists out of three long movements (28:11 + 16:43 + 33:03). The album has a fantastic package with beautiful artwork of Peter Rodulfo.




The "First movement" (28:17) has two parts; "Sueños" (Dreams - 24:14) and the coda "Esperanza" (Hope - 4:03). The first is a modern symphony based on the suite "Baroque" from the "Dreams" album. That work was inspired on and a homage to Rodulfo's favorite music period. The music has mainly a classical atmosphere with lots of acoustic instruments but you can also hear drums and electric guitar solos. As you can read in the booklet Rodulfo found that the final impression of the composition could be one of sadness. So he wrote the second part in which the melodic line of the main theme has an atmosphere of happiness which would provide an optimistic finale. He used Venezuelan acoustic instruments like folk harp and maracas to provide a Venezuelan flavor. The music has a lot of variation and some great moments but I can't stay concentrated during the full length of the piece. But the electric guitar solo in the end is great and is played with a lot of passion.




The "Second movement" (16:43) is the most experimental track of this album. The booklet is full of mathematical statements and formulas to explain the rigid rhythmic patterns and free improvisations. Rodulfo developed a mathematical model of timing for this project. Well I will ignore these dry details, and concentrate on the music. The up-tempo parts sound difficult and complex. This is the most prestigious movement. It's all very cleverly done but it is not my cup of tea.




The "Third movement" (33:03) is my favorite track. It includes fantastic work on classical guitar and it reminds me somehow of the classical album Anthony Phillips made together with Enrique Berro Gracia. But at the same time the high speed guitar playing reminds me of one of my guitar heroes; Al diMeola. This movement radiates more warmth and beauty than the previous one. This first part of the movement is called "Baroque" (15:01) and it is a suite for classic guitar and chamber orchestra. The second part "La gran epopeya de la Música y las Ciencias" (17:52) is a suite for guitar, group and chamber orchestra. Next to the warm sounds of the classical guitar we can hear also some freaky electric guitar solos.




I have mixed feelings with this album. There are beautiful parts with acoustic instruments like classical guitar, violins, flutes and harp. Also you can find some beautiful melodic guitar solos. But on the other hand there are brilliant parts which in my opinion miss the warmth that the other pieces have. The more complex pieces are more compositions for musicians than for the general music lover. It is a good album, but I would like to advise you to listen to some samples first.
Douwe Fledderus
This is a very good album, with very interesting guitars melodies and solos. In fact, I don't give it more stars because I think its saturated with the guitar. Don't get me wrong, Raimundo is a very talented and excelent guitar player but I think, this album should have a little more space for other instruments like the flute.
Anyway, I think the songs are qite good and the music is very original, I recommend it to anybody (I've got it).
fuegolunar
Raimundo Rodulfo's album is an instrumental piece of seven tracks. Raimundo is a good guitar player, but his album becomes a dissapointment after the first two songs IMO. These first two tracks are a combination of folk prog and symphonic prog. However, after these two fine tracks the album becomes actually boring. Some of the tracks are cheesier, some of them have good are played well, but they are really boring. One of the tracks is jazzy, but I cannot consider it interesting. I'll sum this review by saying that Raimundo Rodulfo is a talented guy, but he should stick to (in my opinion once again!) symphonic prog and folk prog like he does in the first two tracks.
Dan Yaron
A talented guitarist from Maracay,Venezuela, Raimundo Rodulfo was born in 1970 and before becoming an adult he had already took lessons for violin, classical and electric guitar.After being part of several groups he focused on composing hiw own material.By the dawn of the new millenium Rodulfo manages to release his first ambitious and indepedently released album ''Dreams'', where he was joined by several session musicians on bass, drums, violin, keyboards and sax.
Containing six long instrumental tracks along with a 21-min. grand suite,the album kicks off with a pair of great compositions, based on the changing sections between delicate flutes, classical-influenced violin parts and Rodulfo's virtuosic guitar playing as well as careful interplays obviously in a classic Symphonic Rock style, not unlike mid-70's PREMIATA FORNERIA MARCONI.The PFM resemblance continues with the next ''New Horizons'', this time Rodulfo focuses on his elegant classical guitar and this is a Symphonic/Folk Rock piece with plenty of violins and flutes to be heard.''Brainstorm'' sees the album's hero exploring the Fusion territory with complex guitar playing along with dominant keyboards and violins and lots of complicated interplaying.Rodulfo returns on his Folk-influenced side with ''Hard Times'',an all acoustic track scanning Classical Music,Folk and Jazz in a decent mix with fine results.''Math & Arts'' is the jazzier composition in here,Rodulfo's guitar work reminds a bit of early SANTANA with some dissonant parts to be found,still he throws in some Classical-influenced breaks and melodies here and there.The ultra-long closing Symphonic Rock/Fusion suite ''Universal Codes'' holds all of this album's flaws and remarkable moments: Virtuosic electric guitar work, acoustic textures with echoes of mandolin added, a touch of Fusion towards the end, warm folkish flutes, even some nice spacey synthesizers at the opening part,but also a bit of stretched ideas to push the composition to overindulgence at some point.
Rodulfo's debut is a nice discovery for all fans of Progressive Rock in general, being influenced by Classical Music, Jazz-Fusion and Folk at almost equal doses and interpretating them into long symphonic orchestrations.Despite sounding a bit excessive at moments,his album comes as warmly recommend at the end.
Psarros

Hay músicos y compositores que tocan y componen como los dioses. El venezolano Raimundo Rodulfo es uno de ellos. "Sueños" es un álbum delicado que realmente funciona como un sueño por el que fluyen los sonidos mágicos de las guitarras, las flautas y los tambores y percusiones. Un álbum que es una joya venida desde Venezuela.
Si te interesa escuchar algo diferente e interesante y que conjuga un montón de estilos te recomiendo este disco, un hermosa música compleja compuesta con el corazón y el cerebro y creada en base a fantasía, imaginación y sentimiento, quizás los componentes principales de todos nuestros sueños.
Totalmente recomendable!

www.raimundorodulfo.com
myspace.com/raimundorodulfo
Facebook