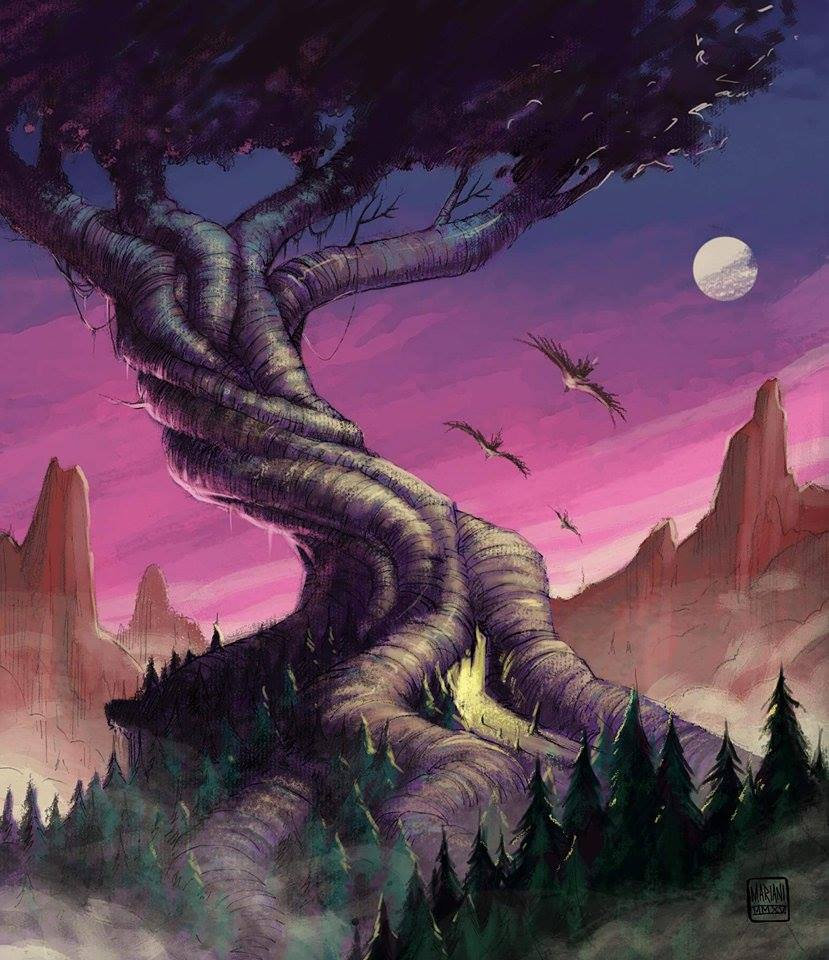 Otra banda del mejor under: Stoner bestial, visceral, animal, directo, potente, aguerrido, salvaje, con riffs alucinantes... si están preparados para la acción sonora de El Triángulo, vengan a conocer su primer trabajo discográfico. Excelente arte tanto gráfico como sonoro en un trabajo que le votará la cabeza a más de un cabezón. Vengan, pasen, vean y escuchen.

Artista: El Triángulo
Álbum: Raíces
Año: 2016
Género: Hard rock / Stoner psicodélico
Duración: 39:34
Nacionalidad: Argentina
Lista de Temas:
1. Raíces
2. Sangre Nativa
3. Umbra Lupus
4. Insomnio Artificial
5. Laberintos

Alineación:
- Lui / Batería
- El Pendejo / Guitarra y Voz
- Lau / Bajo

Lo primero que llama la atención es su excelente gráfica, pero cuando empezamos a escuchar esto, la atención pasará por la excelente propuesta musical de estos chicos de La Matanza.


Trío argento que despliega energía a raudales, guitarras electrizantes, buenos coros, música directa, rock and roll que llega a expresar con su música un sonido salvaje y corrosivo, pero a la vez rítmico, muestran al mundo otra manera de percibir la universalidad de la música basada en guitarra, bajo y batería. El sonido del grupo está basado en su excelente base, gran trabajo de la batería y el bajo donde se monta la guitarra afilada y su voz carrasposa y potente, despegando desde allí cada tema que son con disparos de ametralladoras.
Temas más bien sencillos, directos, sin vueltas, bien estructurados, con un nivel muy parejo entre uno y otro, formando parte de una misma unidad que conforma el disco completo.
Lui, El Pendejo y Lau forman un trío bestial que reivindican visceralemente sus raíces, ya sean las raíces propias de su tierra en su alegoría en defenza del aborigen, o sus propias raíces musicales de blues rock y stoner, y lo defienden con garras y dientes como fieras salvajes.
Un disco animal, instintivo, salvaje, primordial, básico y desgarrador, y constituyen otras de las gratas, gratísimas sorpresas con que nos encontramos en la escena under argentina. "Insomnio Artificial" es un temazo de 12 minutos que despliga todo el potencial de la banda: más allá de su fiereza están los climas lisérgicos, la base blusera, los duelos instrumentales, el grito de desahogo, el machaque brutal y los riffs alucinantes, y si bien el disco es muy parejo, en éste track llegan al punto más alto de éste trabajo que hoy presentamos en el blog cabezón.


EL TRIANGULO nace a mediados del 2010 y termina de conformarse como trio en 2011 bajo la idea de hacer un rock potente, riffero, tomando como pilar el rock, el blues, el funk, y la música pesada. En agosto del 2012 la banda toma el formato de cuarteto agregando un cantante y empieza a salir a la ruta. Tras mas de un año y medio tocando incesantemente en vivo la banda vuelve al formato de trio con una impronta diferente, mas agresiva tanto en lo lírico como lo musical y hasta mas progresiva. En 2015, después de incontables fechas, la banda entra al estudio para grabar su primer producción discográfica "RAÍCES", que ve la luz en febrero del 2016.




"Raíces" esta conformado por 5 temas de puro Rock furioso y directo, con tintes de stoner y condimentado por ahí con algo de progresivo. La voz rasposa y melodiosa es la que termina aglomera la música el general de la banda, afianzada por la sección rítmica de bajo y batería, que es lo que le aporta fuerza y contundencia a este power trio. Arrancan con un potente y pegadizo riff en el tema que le da nombre a la placa, "Raíces", siendo la producción, tanto en este tema como en los demás, un factor decisivo en lo que la banda desea transmitir. Seguido de la stonera "Sangre Nativa" , que arranca con un medio tiempo, con el bajo de fondo acentuando la bata y haciendo retumbar las paredes.




El tercer tema es la oscura "Umbra Lupus", la cual posee un corte psicodelico con toques progresivos. "Insomnio Artificial" es el cuarto tema y el mas largo de la placa, donde dejan traslucir su lado mas experimental e imaginativo donde convergen los distintos estilos que influenciaron a la banda. El quinto y ultimo tema es "Laberintos", uno de los mas potentes del álbum. Los temas están perfectamente alineados para hacer de "Raíces" un disco totalmente disfrutable y entretenido. Recomiendo sin dudas este bandon. Enjoy
Alvaro

Un disco que es pura adrenalina, fuerza salvaje llevada con tracción a sangre, cargado de dramatismo y fiereza. Si querías sonidos suaves y acordes melodiosos yo te diría que vayas a buscarlos a otro lado, pero si lo que querías era acción o simplemente un excelente rock, bueno, has venido al lugar adecuado.
Les dejamos el primer disco de El Triángulo, trabajo que le volará el peluquín a más de uno, disponible en Bandcamp para su descarga directa.


Haciendo sonar El Triángulo
Pasaron de ser un power trío, a experimentar entre cuatro, para volver a sus raíces de tres. Con disco debut en las calles, se preparan para la presentación oficial. Los invitamos a conocerlos.
El Triángulo surge en la república de La Matanza con el nacer de esta década, y termina de forjarse en 2011. Agrupados en un power trío, fueron absorbiendo diversas influencias musicales, desde el blues, el funk y el heavy, pero manteniendo al rock como pilar. Las primeras composiciones fueron realizadas en formato "zapada", lo que les permitió crear temas de largo aliento.
En Agosto del 2012 la banda incorpora un cantante y decide salir a tocar en vivo, transitando el camino del under. Tras mas de un año y medio la banda vuelve al formato de tres, con Laureano Kraemer Laballen en bajo, Lui Ruiz en batería y Santiago "el pendejo" Perez en guitarra y voz con una impronta diferente, mas agresiva tanto en la composición de las letras como de las melodías.
En 2015 la banda entra al estudio para grabar su primer producción discográfica, que ve la luz en Febrero del 2016.
El disco:
"Raices", placa debut de El Triángulo, define el concepto de la banda, plasmando en la grabación las influencias musicales y los temas producidos a lo largo de su historia. Los tracks "Raices" y "Laberintos" fueron dos de las primeras composiciones de la banda; "Sangre Nativa" e "Insomnio Artificial" nacieron en la época de cuarteto de la banda y "Umbra Lupus" es fruto de su formación actual.
Grabado y editado por Diego "Gorra" Gonzales en Recoveco Records, el disco se compone de cinco temas robustos, con impronta La Renga. Si bien cuenta con tres pistas de más de ocho minutos, no se encuadra dentro de una ópera rock, o disco conceptual, sino más bien como notas disparadas en una improvisación controlada. Los riffs tienen marcada preponderancia, imponiendo un ritmo que algunas veces se diluye, mientras que el bajo muestra variedad de recursos técnicos, no siempre bien aprovechados.
Aun con algunos detalles a pulir la banda suena muy bien. Con este el disco debut se augura un porvenir venturoso si se mantienen en esta senda.
El Triángulo estará presentando el disco a lo largo del 2016 tanto en Capital como en Gran Buenos Aires. Si bien lo ha hecho desde el lanzamiento virtual del disco, la banda planea una presentación oficial a mediados de noviembre.
Roberto Gómez

No hay excusas para no conocerlos, un disco muy recomendable, y una banda que presentamos ahora para atender a sus futuros pasos. Una muestra de excelente rock que parece ha venido para quedarse...


Una banda de rock DETONANTE. Excelentes riffs
Daniel Fallas

Vamos cerrando otro disquito de los tantos que tenemos para mostrarles y reseñarles. Mucho under argentino, mucha porpuesta nueva, muchos buenos nuevos grupos, todo ello lo tenés en el blog cabezón.


Super cool stoner/psych grooves from Argentina. Searing guitar laid over solid rhythmic thunder and the vocals 'aint too bad either.
FDJ
Argentina is rocking ! Here is one of the best! Retro tinged psychedelic stoner rock.
Paul
Psych Tinged rock from where else but Argentina.
PJD
Facebook